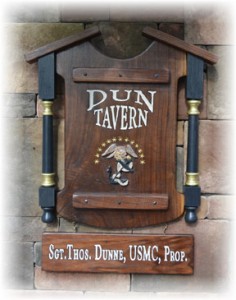 We were thrilled to receive the accompanying photo from Sgt. Thomas M. Dunne, USMC 1967-1971, who became a Jarhead wine club member after learning about our wines in a story in Leatherneck Magazine.
"I enlisted not only to support your worthy cause but as a devoted wine afficianado," says Sgt. Dunne, who  served a tour in H&MS-12, MAG-12 at Chu Lai, S. Vietnam/Iwakuni, Japan from July 1969 – June 1970, and who now lives in West Virginia.
He adds, "I have fashioned our basement to resemble a colonial tavern which displays my Southern Civil War ancestors as well as my Marine Corps experience. I am attaching a tavern sign that, I hope, says it all. As a Marine you will appreciate its significance."
Well played, Sgt. Dunne! Looks like the perfect place to uncork a bottle of Jarhead Red.
And for those who may not know the significance, Dun Tavern is a play on Tun Tavern, where the Marine Corps was established in Philadelphia in 1775.