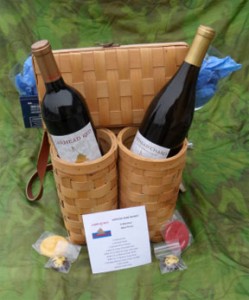 You may recall our earlier blog post spotlighting the Central Coast Women Marines. We are now happy to post the following update sent to us by chapter president Soledad Kennedy:
"The Women Marines CA-11 made a basket for a fund-raising event using Jarhead Chard and Jarhead Red for the Marine Corps Ball, which was in support of Marine Corps League 1340's 237th Birthday. We celebrated the birthday at the Radisson in Santa Maria on Friday November 9, 2012….As the 2012 campaign for the Toys for Tots is underway the Central Coast Women Marines CA-11 have been fundraising monies in support of the Toys for Tots program. We raffled off a basket using Jarhead Red and was able to provide funds for more needy children…Thank you for putting out a great product. Semper Fi."
Thank you, Soledad, for your service to our country and our community!