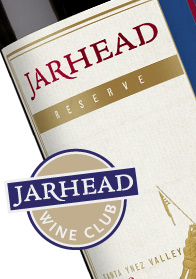 With the holidays on the horizon, we encourage you to check out our Jarhead Wine Club.
With a gift membership, you can treat yourself or your favorite Marine to exclusive discounts on bi-annual shipments of our new releases. Shipments are sent in later May in honor of Memorial Day and in early November, just in time for the birthday of the Marine Corps on November 10.
Needless to say, the second shipment of 2013 is coming soon, so now's the time to enlist if you are interested. There is no cost to join. As a member, you enjoy exclusive 15 percent savings on all Jarhead wine purchases, and you get to choose from several shipment levels (for amount of wine and style of wine for each shipment).
Click here to learn more and enlist today.