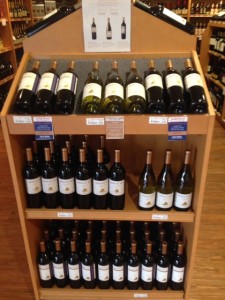 In addition to being an iconic Marine Corps Base, Camp Pendleton in California's San Diego County is home to many Marines who support Jarhead Red.
Indeed, the base is home to several stores that stock our wines, including Beverages, Etc., Seaside Square and Vineyard West.
"Vineyard West is a gorgeous store, it's something that would fit just fine in Napa Valley," says John Bagley, the Classic Wines of California sales representative who represents Jarhead Wine Company on the base. Pictured above is a Jarhead endcap display at Vineyard West.
At these stores and others, John finds that buyers and customers alike are intrigued by the Jarhead story, most notably our Marine-centric mission and history.
"I try to spread the word about Jarhead's substantial support of the Marine Corps Scholarship Foundation," John says. "There are a lot of brands out there that bill themselves as charitable, but only some of them really deliver, and Jarhead is one of them. When local Marines and their families learn that Jarhead Red goes to a good cause and raises a lot of funds every year, they really respond to it."
If you're ever at Camp Pendleton, keep an eye out for John at one of Vineyard West's tastings that run from 5 p.m. to 7 p.m. on Thursdays and Fridays.
"I periodically pour Jarhead wines at Vineyard West's tastings, and it's an honor to share them with the U.S. Marines there on the base," he says.