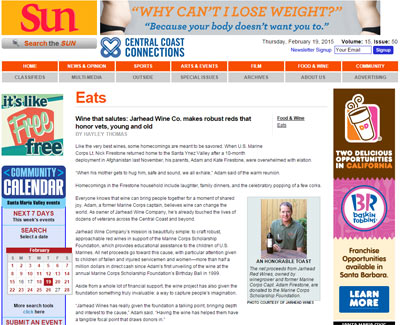 Our thanks go out to Hayley Thomas of the Santa Maria Sun for her magnificent feature story on Jarhead Wine Company.
The story delves into the origins of Jarhead Red, as well as the charitable mission and family ties that continue to drive us today.
Writes Thomas, "Adam (Firestone), a former Marine Corps captain, believes wine can change the world. As owner of Jarhead Wine Company, he's already touched the lives of dozens of veterans across the Central Coast and beyond…Jarhead Wine Company's mission is beautifully simple: to craft robust, approachable red wines in support of the Marine Corps Scholarship Foundation, which provides educational assistance to the children of U.S. Marines. All net proceeds go toward this cause, with particular attention given to children of fallen and injured servicemen and women—more than half a million dollars in direct cash since Adam's first unveiling of the wine at the annual Marine Corps Scholarship Foundation's Birthday Ball in 1999."
You can read the full story here.