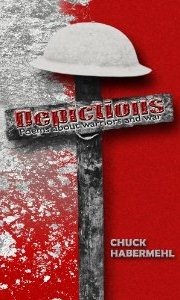 We are always thrilled to hear from Jarhead Red fans, many of whom have interesting stories to share themselves.
On that note, we recently received the following note from Lisa Habermehl, whose husband Chuck has published an acclaimed book of military poetry. Chuck is a close quarters battle expert, and the author of Combat Proven Tactic: Small Unit Urban Warfare and other tactical-training materials
Wrote Lisa, "Just wanted to say we love your wine. We proudly display it on our bar rack and have given it to many friends as gifts. I only just discovered the wine club by going on your site – that'll make a good Christmas gift! Thought you'd like to toast a glass of your JHR to a poem that appeared in my husband's book, Depictions: Poems about Warriors and War, which recently won a gold medal from Military Writer's Society of America last month at their annual conference. He is a jarhead too! Use it as you wish."
Chuck's book of poetry can be purchased on Amazon. Thank you Lisa and Chuck for sharing your kind note!